Industrial
Doors
Opener
–
GDO-10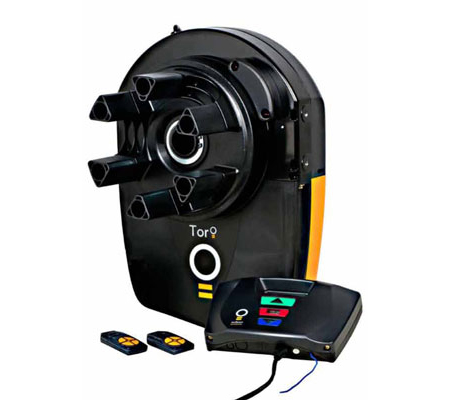 Feature rich easy-to-use and versatile.
• Suitable for rolling doors up to 28m2
• Built in battery back up
• Wall mounted control panel with LCD screen
• Soft start/soft stop operation
• TrioCode™ receiver intergrated as standard
• Super quiet operation
The GDO-10 Toro™ is an feature rich, easy-to-use and versatile "one box" solution for commercial and light industrial applications.
TrioCode™ Multi-Frequency Coding Technology
• A world leading transmitter system, TrioCode™ multi-frequency coding technology overcomes the all too common interference issues while maintaining security through over 4.29 billion random code possibilities.
Easy To Fit
• The GDO-10 simply bolts to the axle, unlike traditional bulky commercial openers, making for simple and safe installations.
Wall Mounted Logic Control System with LCD Display
The wall mounted logic control, connected to the drive unit via a standard CAT-5 connection, provides:
• UP, DOWN and STOP buttons for door control
• Storage for up to 511 transmitters with customisable alpha-numeric names e.g. "AB SMITH1",
• 24-hour time clock that can integrate with operating modes such as auto-close and pedestrian settings
• Integration for operating inputs such as magnetic/pulse locks, P.E. Beams and loop detectors
• Multi-button menu system with LCD readout
• Password protection to regulate access to setup menus
• PG-3 Programmer connection for enhanced feature access
ALL NEW! M-ALPS (Magnetic Automatic Limits Positioning System)
• Using a magnetic sensing system that is highly resistant to dust, grease and other elements, M-ALPS makes setup easy and maintains millimetre perfect limits even as the door ages.
Downloads: