Rolling
Doors
–
Roll-A-Door
S1
Mini
Warehouse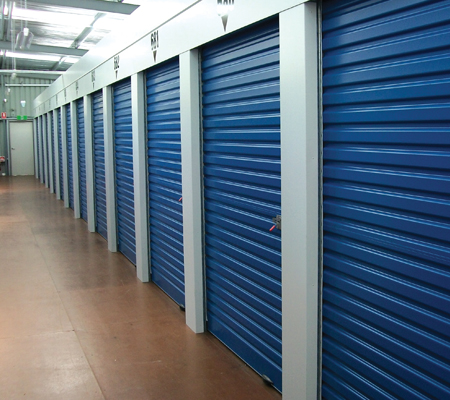 Delivers high standards of durability, security and operational ease.
• Smooth, Quiet Operation
• High Wind Rated Roller Door
• Precision Springing
• Consistent Balance
• Bottom Weatherseal
• Wide range of colours
B&D Self Storage Roll-A-Doors deliver all of the performance features necessary for the Self Storage industry, teamed with the quality finish you've come to expect from Australia's leading garage door manufacturer.
Smooth, Quiet & Easy Operation 
• Nylofelt® running strips for smooth, quiet greaseless operation.
• Castalated steel drum and mini groove top sheet help reduce paint scuffing during door operation
• Rubber coated guide stops to prevent metal on metal contact.
• Guide blocks with double rollers for smooth, quiet operation for many years.
• Combination of castellated steel drum and precision springing ensuring consistent balance, allowing the user to stop the door when and where they want it, and it will stay there.
• New, sturdy D shaped lifting handle, designed to fit the pull rope, for fast, simple installation.
• Pull rope provides simple, convenient closing by users. Safety & Convenience for your Customers.
• Steel door stops securely capture the door when opening, not plastic like some brands.
• A wide selection of locking systems to suit your complex are available, including: easy lift, waist height mounted locks, overlock capabilities, and much more.
•Optional stainless steel lock for a rust resistant, contemporary look.
Durability 
• Springs designed to exceed the Australian Standard for garage doors – 20,000 cycles.
• Pressed square-line panels reduce the deflection in the door curtain and the visible effect of seaming joints.
• Soft, pliable bottom weatherseal to help stop stray leaves and rubbish from entering under the door.
• As with all types of garage doors, for optimal trouble free performance and safety, we recommend annual servicing.
Design
• Mini groove top sheet eliminates paint scuffing.
• Break pressed door curtains – providing a straighter curtain and improved appearance.
Sizes 
Self Storage Roll-A-Doors are manufactured to meet the following specifications;
• Opening height: 1250mm to 2400mm
• Opening widths: 940mm to 3150mm
• Larger doors are available upon request.
Unique Design Weatherseal 
• Deep cushioned multi-fin design provides a labyrinth seal.
• Helps keep out wind, rain and dust.
• Minimises gaps on slightly uneven floors providing extra protection for contents.
Colours 
• Available in an extensive range of standard Colorbond® colours, Ziincalume® and several Special Self storage colours designed to gain greater impact and identification for the Self Storage complex, or to suit your corporate identity.
High Wind Rated Roller Door
• The B&D Roll-A-Door® S1 Mini Warehouse door been independently certified for use in all cyclone-affected regions throughout Australia.
• Our wind-locking technology incorporates a unique clip design  fitted to the edge of every flat on our high wind rolling doors. When exposed to high wind situations, this clip design ensures the door is held captive in the door track, it reduces the risk of both blow-in and blow-out wind forces, and provides added protection against forced entry.
• In any area that could be affected by high wind or extreme weather conditions, B&D recommend the fitting of Windlock Guide Systems
• Complies with the high wind requirements stated in the National Construction Code*
*The B&D Roll-A-Door® S1 Mini Warehouse doorhas have been tested in accordance to the wind requirements of AS/NZS 4505:2012 (Garage Doors & Other large Acess Doors) which complies to AS/NZS 1170.2:2011 (Wind actions) and AS 4055:2012 (Wind loads for housing)
The NT Deemed to Comply Manual (DTCM) is referenced in the Building Code of Australia, Volume 2, Part 3.10.1 as an acceptable construction manual for high wind areas.
The Manual contains products or systems which have been assessed for structural adequacy for cyclonic wind loads and approved by the NT Building Advisory Committee (BAC). These drawings can be accepted by architects, builders, building certifiers, designers, engineers etc as complying with the structural requirements of the NT Building Act.
B&D's DTCM drawings can be downloaded via the DTCM website or by clicking here.